Anna Veretennikova
Fitness Trainer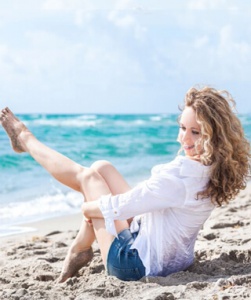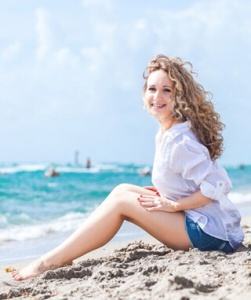 My 10-year training and competitive experience in Rhythmic Gymnastics has shaped me into the person I am today: a girl with a core, desire to learn and improve. But what's mostly important – sport taught me hard work, discipline and how to manage my time and efforts to do best in everything I started… Once I've stopped training at 16 and focused solely on school, there was something missing in my life – the action, the energy, the necessity to juggle ten things at a time (as crazy as it sounds)! I "craved" an excitement, something to devote my mind to outside of the university. And this is how it all started…

Back in 2006 I took my first job as a group fitness instructor with great joy and dedication. From the very first class I was hooked! There was no better feeling than to see your clients enjoying their workout by pushing through the pain with a smile and just having a blast with you and their gym buddies for that one hour. They were my true inspiration and made me fall In Love with Fitness once and forever. They encouraged me to continue my fitness education and work on my skills. I've discovered a way to influence people to stay physically active and therefore happier, healthier and more balanced with their lives… Trust me, it's a MAGICAL FEELING!
As I slowly transitioned my career into personal training, the background in gymnastics gave me a unique approach to weight training and overall fitness: I focus on embracing a feminine physique and building a strong body that can handle any challenges life throws your way. Yes, I do believe that physical fitness helps us build confidence because "my girls" (at any age they are still my girls) are super heroines in the making! They impress themselves by what they are able to do every workout! No wonder their shyness fades away as the muscles get stronger. I must say that being stronger doesn't automatically mean "bulky" or "manly looking". My clients have no interest in a "muscle" competition of any kind – their goal is to shape up their bodies in the most feminine way. Did I mentioned the "side effects" that come along with that beautiful toned body? Oh…here they are – higher energy level to run through a mile long to-do list for the day, reduced stress, improved mood, deeper sleep and, finally, exercising helps many of the body's systems function better!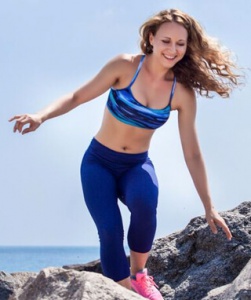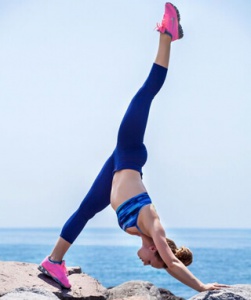 I'll repeat myself by saying that my clients are often my inspiration! They are caring mothers, beautiful wives, busy professionals and successful business owners. If they MAKE TIME to workout and stay healthy then nearly all excuses are invalid! Of course they fall off track here and there but their ultimate "setting" is "healthy."
And I'm just like many of us trying to find life balance in many ways. Your struggles are my struggles. Surely, I go through ups and downs in my fitness shape. I LOVE good FOOD and to be lazy at times. I skip workouts because I'm overloaded with work and think that "I don't have time"… Should I continue? This is "me". I'm not always consistent because I'm working on myself, my habits, my attitude, my will power, my life…"Me" is always changing and so can "you".
The In Love with Fitness project was born in the middle of tough-crazy-sleepless-yet-very-happy time. I was getting my second degree as a full-time straight-A student (yes, I'm bragging a little) and running a full time personal training business. It was getting more and more difficult to keep up with my clients' training "homework", nutrition and motivation because of the growing work load and the limited timeframe they could spend in the gym. I imagined it would be great if my clients had a one-stop-shop for fitness.
A place they can get organized like:
workouts to do outside of the gym;
weekly training plans;
how to adjust their diets and yet enjoy the foods we love;
find healthy nutritious recipes;
learn about latest fitness trends;
get advice and motivational support, etc.
As the Russian saying goes – "The best gift to give is the one you wish to receive yourself"…In Love with Fitness is a small gift to help you make a BIG change in your wellbeing!